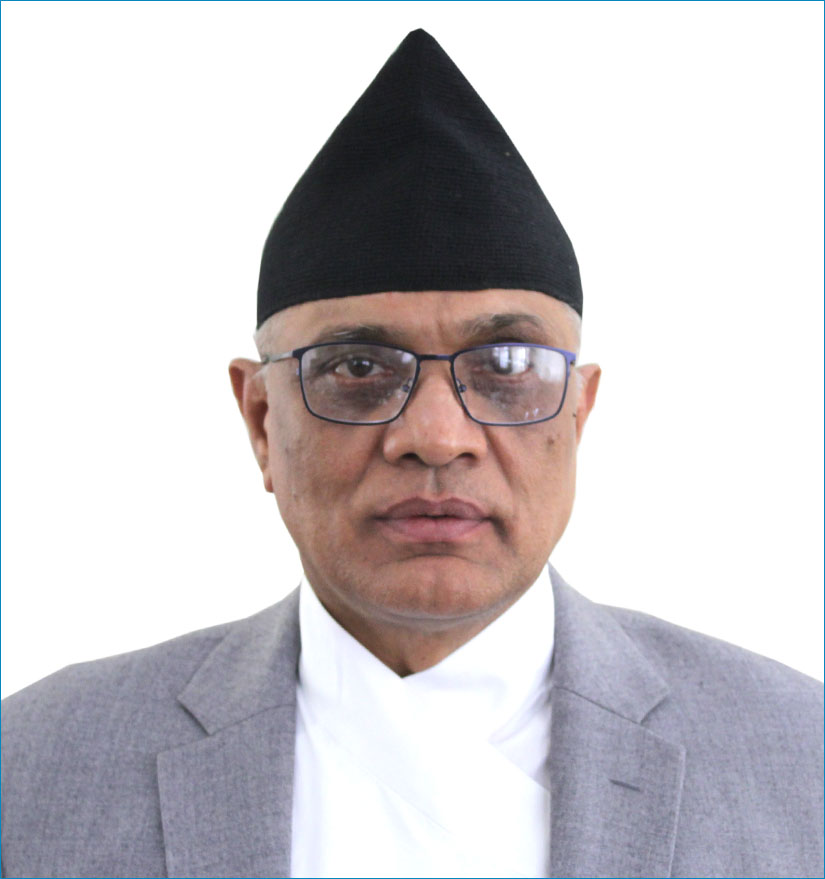 Rt. Hon'ble Mr. Gopal Parajuli
Chief Justice
Supreme Court of Nepal
From 2074/03/02 To 2074/11/30
A. GENERAL INFORMATION
Date and Place of Birth:- 28th April 1953, Tanahun, Nepal
Gender:- Male
Marital Status:- Married
Nationality:- Nepali
Permanent Home Address:- Kanhu Shivapur VDC-6, Tanahun District, Nepal
Current Residence:- Ganesh Basti - 4, Kathmandu, Nepal
B. ACADEMIC QUALIFICATION
Degree

University/Board

Master in Arts (Specialization in Rural Sociology)

Tribhuvan University, Nepal

B.L.
(Bachelor in Laws)

Nepal Law Campus,
Tribhuvan University
C. LANGUAGE PROFICIENCY
1. Nepali - Native
2. English - Fluent Reading, Spoken and Writing
3. Hindi - Fluent Reading, Spoken and Writing
4. Magar (Indigenous Tribal Language) - Fluent Spoken
D. PROFESSIONAL CAREER
| | | | |
| --- | --- | --- | --- |
| S. No. | Designation | Organization/Institution | Tenure/Period |
| 1. | Chief Justice | Supreme Court of Nepal | 16th June,2017 - 14th March,2018 |
| 2. | Acting Chief Justice | Supreme Court of Nepal | 7th June, 2017 - 16th July, 2017 |
| 3. | Justice | Supreme Court of Nepal | May, 2014 - 6th June, 2017 |
| 4. | Chief Judge | Various Appellate Courts | December 2010- April 2014 |
| 5. | Judge | Various Appellate Courts | October 1991- November 2010 |
| 6. | Law Practitioner (Advocate) | Supreme Court Bar Association & District Court Bar Association Nawalparasi | September, 1979 - October 1991 |

E. ADDITIONAL RESPONSIBILITIES
Chairperson of JSCC(Judical Sector Coordination Committee)
Governing Council Member of National Judical Academy(NJA)
Member,Information Technology Committee, Supreme Court of Nepal
(June 2014 to Present)
Chairperson,Revenue Tribunal Kathmandu (2008 May to Dec 2010)
Convener,Appellate Judicial Sector Coordination Committee (JSCC), Biratnagar (Dec 2010 to April 2014)
Convener,Court Management Committee, Appellate Court Biratnagar (Dec 2010 to April 2014)
Coordinator, Strategic Planning of Judiciary Execution Committee, Appellate Court Biratnagar
Resource Person: Faculty Member, National judicial Academy, Judicial Service Training Centre, Revenue Training Centre and other various training institutions
Legal Advisor, Agriculture Development Bank and various other institutions (1977-1991)
Involved in numerous Academic and Social organizations namely Law Society Bar Association while practising law as an Advocate (1978 to 1991)
Cordinator of 10th SAARC Chief Justice Conference Prepration Committee.
Co-Chairperson on presentation of Access To Justice in 10th SAARC Chief Justice Conference.
F. MAJOR INTERNATIONAL PARTICIPATION
Court observation visit of the judicial system of Germany, June 2013,France,Belgium,USA
Observation visit of the European Court of Human Rights and Human Rights Systems in Europe, June 2009
Participated in various national and international workshops/seminar on judicial reform, mediation, law reform, human rights and rule of law issues.
Court Observation and Training on mediation and judgement execution of Japan.
Court Observation of Information Technology in Korean Supreme Court, Insolvency Court and JRTI(Judical Research Training Institute)
G. INVOLVEMENT, ACTIVITIES AND PUBLICATIONS
Life Member of Judges Society of Nepal
Member, Red Cross, Charities and Welfare Societies etc.
Contemporary articles, features, commentaries etc. on the issues of law and justice and human rights, published on journals, newspapers, bulletins, etc.
H. COUNTRIES VISITED
Germany, Luxembourg, France, Switzerland, Belgium, Netherlands, India, USA, Japan, Korea
I. POSTAL ADDRESS/CONTACTS
Supreme Court of Nepal
Phone: +977-1-4250916 (Chamber)
Fax: +977-1-4262362, +977-1- 4216864
Email: gopal.parajuli@supremecourt.gov.np (official)
g686parajuli@gmail.com (personal)
Website: www.supremecourt.gov.np