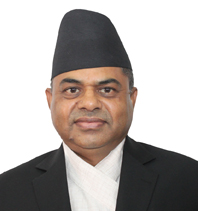 Honourable Mr. Anil Kumar Sinha
Justice
Supreme Court of Nepal
______________________________________________________________________________
A.  GENERAL INFORMATION

1. Date of Birth: October 31, 1958
2. Gender: Male
3. Marital Status: Married
4. Nationality: Nepali
5. Address: Gairidhara-2, Kathmandu


B.  ACADEMIC QUALIFICATION
Graduated in Law (Nepal Law Campus, T.U, 1982 AD)
C. PROFESSIONAL CAREER
| | | | |
| --- | --- | --- | --- |
| S. No. | Designation | Organization/Institution | Tenure Period |
| 1. | Justice | Supreme Court Of Nepal | 2073 Shrawan 17  - Present |
| 2. | Senior Advocate | Supreme Court Of Nepal | 2069 Magha |
D. OTHER RESPONSIBILITIES
National Consultant for Public Private Partnership for Urban Environment (PPPUE, a UNDP project)
Consultant for establishment of Early-state Hydro Power Equity Fund for a local Development Bank
Coordinated a survey for harmonization of hydropower laws of Nepal
Assisted to identify requisite changes in Customs Act in compliance with international conventions
Worked for revision of Manual for Foreign Investment for Department of Industries of Government of Nepal
Reviewed the statutory provisions, procedures and court precedence related with Land Acquisition for infrastructure projects
National Survey of Public Opinion on the Judiciary in Nepal (2002)
Recognized trainer on various Commercial Law and Taxation issues at the Nepal Judicial Academy, Nepal Bar Council and Nepal Bar Association.
E. TRAININGS
Development Lawyer's Course (DLC-7E) in Rome, Italy in 1990
Professional training Prospects & Challenges of Arbitration in Nepal (1992, Kathmandu)
Privatization: Issues and Methods (1993, Kathmandu)
Political Strategies: Fighting Corruption (2002, Germany)
Training for Trainers (2004, National Judicial Academy, Nepal) and various other short term trainings
Completed "Fast Track Assessment" of Chartered Institute of Arbitrators (London, UK) to primarily qualify as Fellow of Chartered Arbitrators
F. PUBLICATION:
Co-authored the country chapter of the book "Philanthropy and Law in South Asia" published by Asia Pacific Philanthropic Consortium, Philippines (with update in 2007)
Co-authored "Training Manual" and "Legal Aid Manual" for Nepal Bar Association
Articles on various legal issues published in Law Bulletin and Essays on Constitutional Law (Nepal Law Society), The Rising Nepal (National daily), Nyayadoot (Nepal Bar Association), Kantipur (National daily), Kanoon (Lawyer's Club), Annual Survey of Nepalese Law (Nepal Bar Council), The New Business Age (Monthly magazine), Journal of the Institute of Chartered Accountants of Nepal (ICAN), The Himalayan Times (National daily), The BOSS etc.
Co-authored the country chapter of the book "Philanthropy and Law in South Asia"
G.  COUNTRIES VISITED

India, Bangladesh, People's Republic of China, Thailand, Malaysia, Singapore, Hong Kong, United Arab Emirates, Australia, Vanuatu, Italy, Switzerland, Germany, Norway, Denmark, Austria and United States of America.